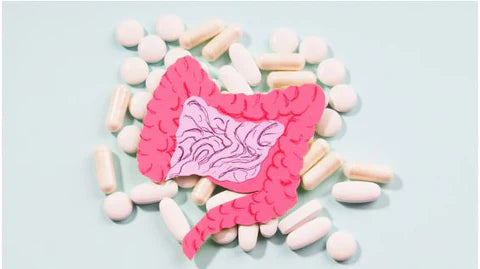 PROBIOTICS, PREBIOTICS, OR SYNBIOTICS? WHAT SHOULD YOU TAKE
''What is the difference between prebiotics, probiotics, and synbiotics? What should I take?'' I often get asked this question by people looking to improve their gut health. 
In short, the key difference between prebiotics and probiotics is how they work in the body. Let's break it down into some simple sentences for an easy understanding. 
Probiotics
Probiotics are the bacteria itself —the good bacteria that don't cause any infection in your gut. These are beneficial bacteria that live in and promote your gut health and digestion in various ways. 
Eating probiotics adds to the existing reserves of healthy bacteria in your digestive tract. When you eat probiotic supplements or fermented foods, such as yogurt, miso, kefir, and tempeh, you basically ingest millions of these bacteria into your gut. 
Prebiotics
Prebiotics are not bacteria. You don't ingest bacteria when eating prebiotic foods. They don't add into the pool gut microflora. Rather, prebiotics are like fertilizers for your existing reserves of gut bacteria. 
Prebiotics are specialized plant fibers that promote the growth of healthy bacteria in the gut. Prebiotics are organically found in foods such as whole grains, apples, bananas, garlic, and artichokes. They are essential for maintaining the balance between good and bad bacterial populations in the gut to keep us healthy.
So, isn't it good if you take probiotics and prebiotics together to enjoy their maximum health benefits? Well, that's what synbiotics are.
Get started on high quality prebiotics with Ther Biotic Complete.
Synbiotics
Synbiotic supplements contain both the healthy gut bacteria (probiotics) and fibers that help those bacteria grow (prebiotics). They work synergistically to increase the viability of microflora in your gut. Fructans, Inulin, and oligosaccharides are some commonly used prebiotics with probiotics such as lactobacilli and bifidobacteria in synbiotics. 
Synbiotics improve the survival and functioning of bacterial dietary supplements. They selectively stimulate and promote the growth of healthy bacterial strains in your gut. This helps probiotics overcome survival difficulties, stunting the growth of harmful bacteria in your gut.
What Should I take?
It depends on your body's needs and dietary habits. You are recommended to consult your health practitioner  before taking any probiotic or prebiotic supplements.
Probiotics are very important for the repopulation of digestive flora after their loss due to overuse of antibiotic treatment. Disrupted gut flora with overgrowth of harmful gut bacteria needs prebiotics to selectively replace it with healthy gut bacteria. Synbiotics are useful when you need to replenish your gut flora quickly.