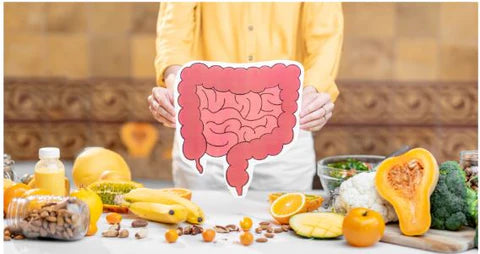 5 SURPRISING HEALTH BENEFITS OF PREBIOTICS
Prebiotics are dietary fibers that feed healthy gut bacteria. They influence the makeup and functioning of gut bacteria, promoting the growth and maturation of a beneficial gut microbiome. Some experts have also called them 'microbiome fertilizers.' 
Most prebiotics are carbohydrates and are naturally found in some foods such as tomato, garlic, honey, banana, apple, and chicory. 
But there are not many foods that naturally provide prebiotics. Moreover, many foods rich in probiotics are not a regular part of our daily diet. Therefore, prebiotic supplements in daily diet are recommended to ripe their maximum benefits.  
Here are the 5 health benefits of prebiotics for why you should include prebiotic supplements in your daily diet.
May Improve Gut Conditions 
Prebiotics are a viable option for relieving constipation. They promote the release of short-chain fatty acids (SCFA) by healthy gut bacteria, which stimulates gut mobility and increases blood supply in that region. A2020 study found that consumption of inulin (a prebiotic) can benefit people with constipation due to irritable bowel syndrome. 
Prebiotics may also reduce your risk of colorectal cancer. They do so by modifying the composition and activity of your gut flora. Inhibition of gene expression by SCFAs produced by prebiotics is the primary mechanism of cancer prevention. 
May Improve Metabolic Health 
Eating prebiotic foods and supplements can regulate many aspects of your metabolic health, including blood sugar, triglycerides, and cholesterol levels. A2019 literature review found that inulin-type fructans (a form of prebiotics) can significantly reduce HbA1c and fasting blood sugar and insulin levels. 
Researchers found that these results were more prominent in those with type 2 diabetes, suggesting a potential to prevent diabetes. 
Additionally, a2021 study showed that prebiotics could reduce cholesterol and triglyceride levels in patients with diabetes and prediabetes.
Boost Your Immunity 
One of the main health benefits of prebiotics is the stimulation of the immune system. They can directly or indirectly boost both the innate and adaptive immunity of gut mucosa.Studies show that prebiotics also trigger the activity of GALT (gut-associated lymphoid tissue), which affirms overall health and reduce the risk of diseases.
Increased Gut Absorption of Minerals 
Daily consumption of prebiotic supplements can increase the absorption of calcium, magnesium, and other vital minerals, which improves bone mineralization. Prebiotics increase acidity in the gut lumen, increasing the solubility of minerals in the gut.
May Prevent Obesity 
Gut microbiota can influence your food intake by altering hormones that regulate brain areas for eating behaviors. They can also cause low-grade inflammation in the gut, disrupting the absorption of fats and glucose. These disruptions lay the foundations of obesity. 
Prebiotics help maintain gut barrier integrity. Astudy suggests that prebiotics can reduce low-grade inflammation and mitigate metabolic alterations, promoting weight loss and fat reduction in the body.

Enjoy the many benefits of probiotics like improving gut health, preventing obesity and improvement in immunity by getting yourshere!