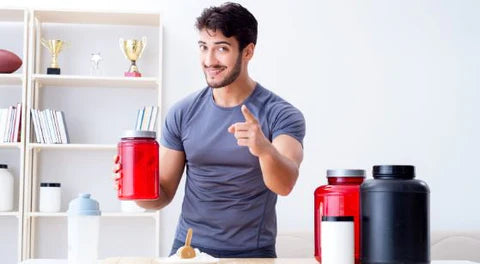 BENEFITS OF PURE PALEO — GRASS-FED BEEF PROTEIN 
Pure paleo Grass-fed beef protein is a great complement to your existing diet and is a quick and convenient source of protein. If you're too busy to count your macros and find that you are not consuming enough protein, then this would be perfect for your lifestyle. 
What is PurePaleo?
PurePaleo is a highly concentrated protein powder extracted from the beef of organic-grass-fed animals, free from any hormones, antibiotics, allergens, and GMO grains, grass, or hay. So you don't have to worry about unwanted toxins.
PurePaleo is an ultimate supplement for people on a Paleo diet. It yields a hefty 21 grams of dairy-free protein per serving. It contains 97% pure beef protein hydrolyzed into functional peptides, which allows its complete absorption in your gut. 
Its chocolate and vanilla flavors are delicious in taste. It is great for those who want all the muscles, ligaments, and cartilage benefits of beef —all without eating beef. 
Benefits of PurePaleo
Here is a list of how PurePaleo adds to your Paleo diet benefits by boosting immunity, weight loss, muscle growth, and preventing aging. 
Muscle Growth.

It is no surprise that readily available peptides and amino acids from PurePaleo promote the synthesis of muscular proteins in your body. It helps increase muscle size and strength, developing stable body posture and flexibility in your body. 
Strong Immunity.

Antibodies are proteins integral for the functioning of the immune system to combat germs and illnesses. The ample availability of amino acids from PurePaleo protein powder promotes the synthesis of antibodies, building a stronger immune system for a healthier you. 
Weight Loss.

PurePaleo can help you lose more weight by keeping you from overeating. It is light in calories and satisfies your appetite but jam-packed with essential proteins, which increases your metabolism and helps your body to burn more calories. It ultimately leads to weight loss. 
Controls Blood Pressure.

It is well-known that increased intake of proteins can reduce your blood pressure, alleviating the risk of heart attack or stroke in old age. 
Anti-Aging.

People lose muscle mass and strength as they age, prone to falls and injuries. Proteins are the building blocks of every tissue in the body, including muscles and bones. So, adding PurePaleo to your daily diet can help maintain muscle mass and strength. PurePaleo also stimulates collagen synthesis in your body, making your skin look younger and beautiful. 
Whether you are looking to build muscle or just to hit your protein intake for the day, thisPure Paleo protein powder is a quick and easy fix for your lifestyle. Get yours from Nutra Nourish today!